It seems 2020 make up trends are really leaning towards FUN. There is sparkle, color, eye embellishments and it seems like there are very few things a 'mum on the go' can incorporate into their busy lives. But that is where I come in. I am going to break down my top 10 favorite trends but to be honest, these are actually more CLASSIC trends that seem to be in every year. They are easy to do and don't take much effort and your child probably won't feel embarrassed when you come to get them from school.


1. Glossy Nude
This is a mix of your favorite lip balm and go-to nude lipstick. So easy right!!! I have dark lips so this is my favorite quick fix for a quick, natural day time look. You can use your sheer nude and earth tone lip colors and add your favorite lip balm on up for an almost glossy finish. I also use my matte lip pencils to get this look and just add a touch of lip balm on top.
2. No More Wild Brows

No more 'I got up like this brows'. Here is in Sri Lanka we have brow threading...yep painful but it gives a long-lasting neat brow. I do this once a month...I tried waxing my bows, shaving them but prefer this combination of threading and trimming. It is not the best method but it is the method I love for my self. So I only recommend it to brave of heart.

But you really don't need to go as far as I do to keep your brows neat. One thing I do to my brows every day is brushing them with a small eyebrow brush or even a small toothbrush with very soft bristles would do, it just keeps them in place. Adding a little brow gel also helps in keeping them in place.
3. Barely there Lip Stain

It gets easier and easier. One of the 2020 makeup trends is a barely-there lip stain. Lip stains give that touch of color and are super low maintenance. Perfect when you have got 10 minutes to get ready and go out the door.
Image via @zhannamua in Instagram
4. Inner glow
Manifest your inner glow with glowy, dewy skin. *wink. Glowy skin is in. One way to get a lovely highlight in your skin is to wear your LIQUID highlighter before your foundation. After your moisturizer, add a liquid highlighter onto your cheekbones, forehead, and down the nose. Once you add your foundation over this, your skin looks radiant as a glow comes through the foundation.
Image via @jilliandempsey on Instagram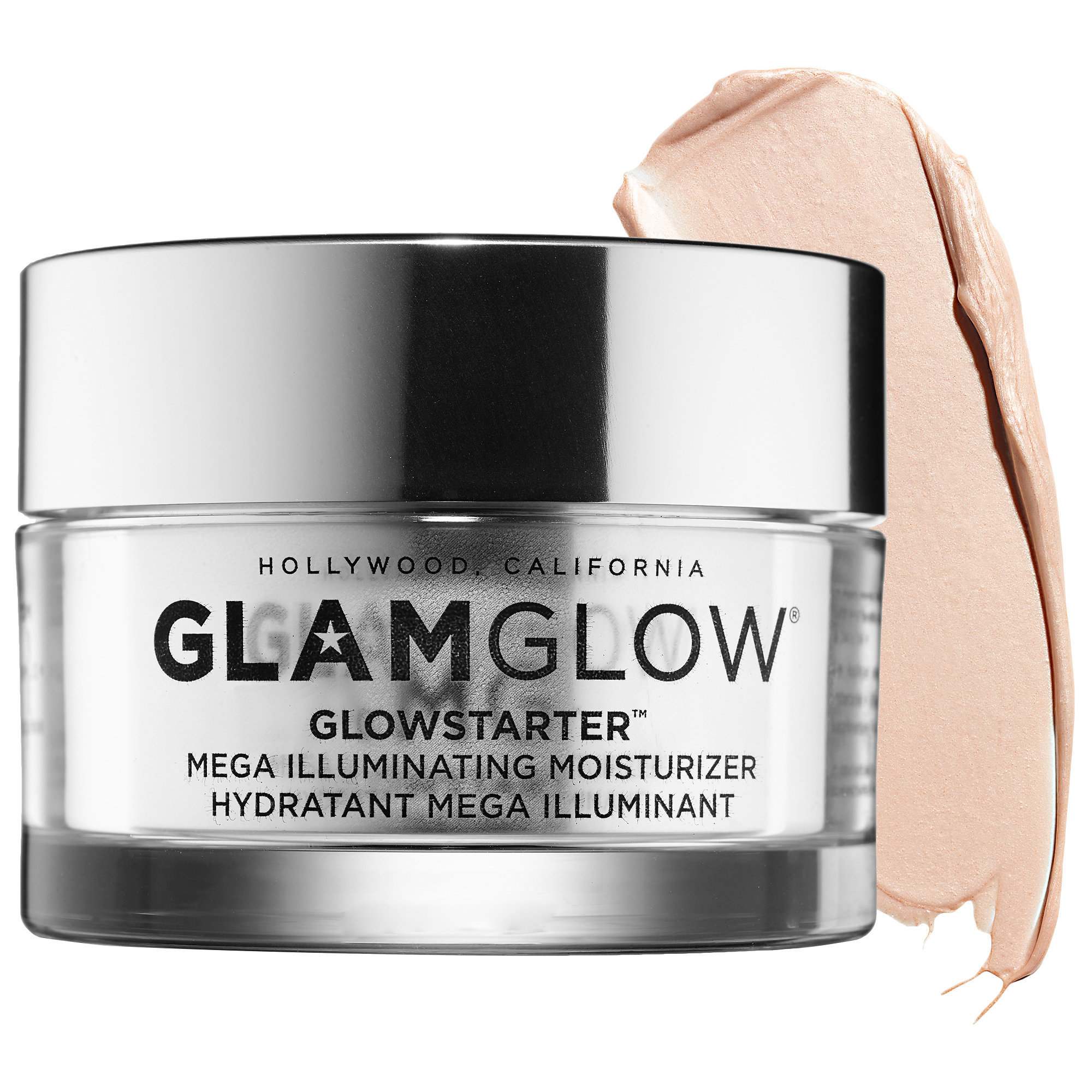 Overstock.com- GlamGlow GlowStarter 1.7-ounce Mega Illuminating Moisturizer Nude
5. Less is more, Skin is in
Over the past years we have seen more opaque, ultra-matte coverage, in 2020 the trend is towards a more natural, sheer coverage. This works out so well for me because I don't wear foundation daily. My morning routine most days is cleansing, tone and use a moisturizer with an SPF, so I try to take care of my skin better.
So the way to go in 2020 is the lighter the better, with sheer, more natural products. Let your skin your stand out feature. Use a tinted hydrating moisturizer or a water-tint foundation as a base that adds a glow to your skin. You can add a dab of blush onto the apples of your cheeks for colors.
And for a more glam look use a brow pen to highlight your eyebrows, a clear brow gel to keep them in place, add your favorite mascara, use an eyeliner to create those wings and a nude, glossy lip.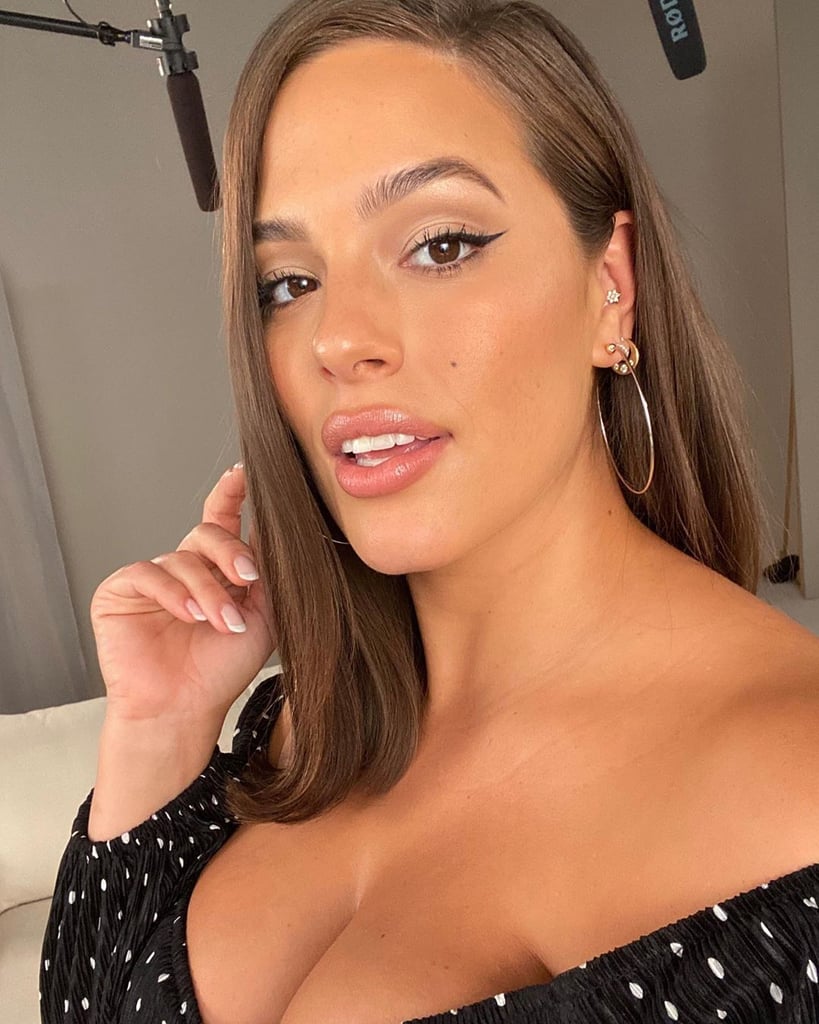 Image via Pop Sugar
6. Pops of colors
Pops of color everywhere, from your eyeshadow to your lipsticks. Yellows, purples, rainbow shades, mismatched colors in everything from eyeliners, eyeshadows and lipsticks...oh my. Which one is right for you is the fun part.
7. Sparkly Eyes
Sparkly glitter eyeshadow in shades of lilac, pink, purple...To be honest glitter eyes are a trend almost every year. It is just too much fun and fabulous. Yes, you are a mum but isn't this a super trend to try for a girl's night out?
8. Shades of blue
Pantone's 2020 color of the year is Classic Blue so if there is one color that we will be seeing a lot if this year is blue. I love this jewel-tone eyeshadow in 'sapphire' worn on the models at the spring 2020 LaQuan Smith show.
9. Bold Lips
I am so glad that bold lips are still in. In 2019, I really came out of my neutral and pink lipstick shell and started wearing bold colors like red. The 2020 way to wear your favorite bold lip is with a neutral face - with brushed-up brows, natural eye makeup, and a bold lip, which makes life much easier for me.
My current favorite bold lipstick is Illamasqua Antimatter Lipstick in midnightIllamasqua antimatter lipstick. I was never a red lipstick fan but this red color really suited my dark Asian skin tone.
10. Bold red on the Eyes
You know black smokey eyes but have you seen red smokey eyes? If there is one look I would like to try this year is this red smokey eye look.
Take a look at the gorgeous ruby-red smokey eye below? Doesn't it look amazing?